The Boxer is best suited for beginners. It needs little grooming and is very trainable. This dog breed is also an optimal family dog, who abides by all rules and is very open-minded towards children. He needs a lot of exercise and a large home where he can let off steam.
Typical breed characteristics of the Boxer
    Character: playful, intelligent, friendly
    Size: male up to 63 cm, female up to 60 cm
    Weight: between 25 and 32 kilograms
    Colours: brown
    Life expectancy: 10 to 13 years
Due to its affectionate and curious nature, Boxers are very popular with dog owners.
He serves as a fantastic family dog and is very playful and spirited. This is one of the reasons why the Boxer has made it into numerous movies such as "Isle of Dogs" or "Godzilla". 
Dog owners often notice that the Boxer prefers to act first rather than think about some things. He is very enthusiastic and loves to scuffle with his fellow dogs from time to time.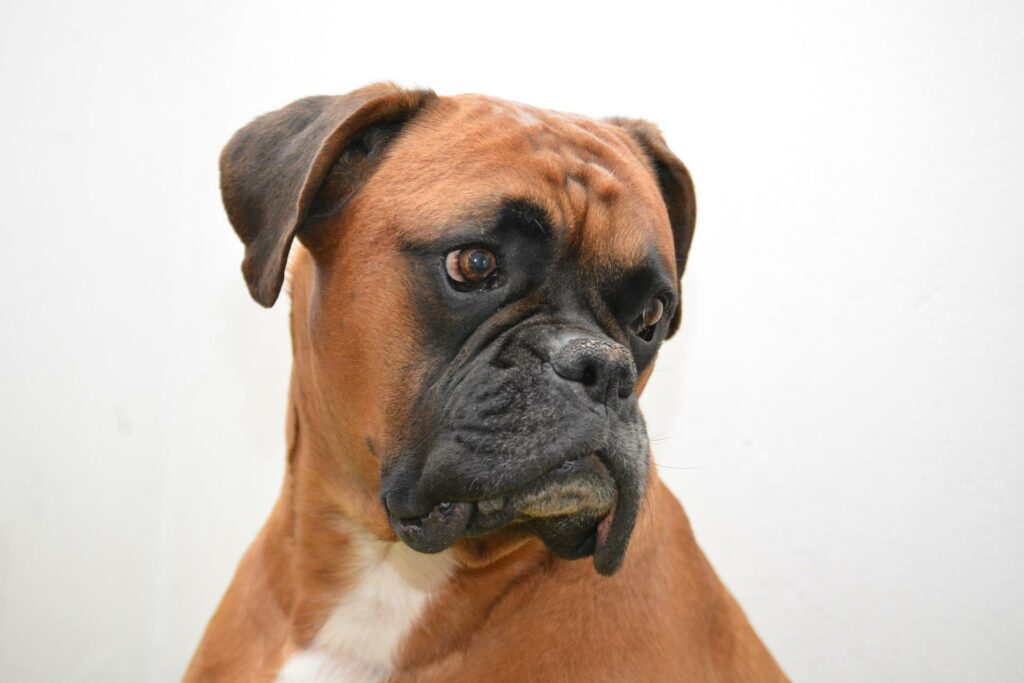 The Boxer weighs up to 32 kilograms and can reach a height of 60 cm. Its life expectancy is between 10 and 13 years.
Typical diseases of this breed are tumour diseases, heart problems, arthrosis, OCD,
Care and upbringing
Boxers are very low maintenance due to their short haired coat. A few brushing sessions a day is all it takes.
Boxers shed a lot, especially in spring and autumn. This is due to the change of coat and can sometimes lead to bald patches or parasite infestation. 
The education of Boxers, like other dogs, must begin very early in the puppy years. This should be done in small learning stages and should not be overwhelming.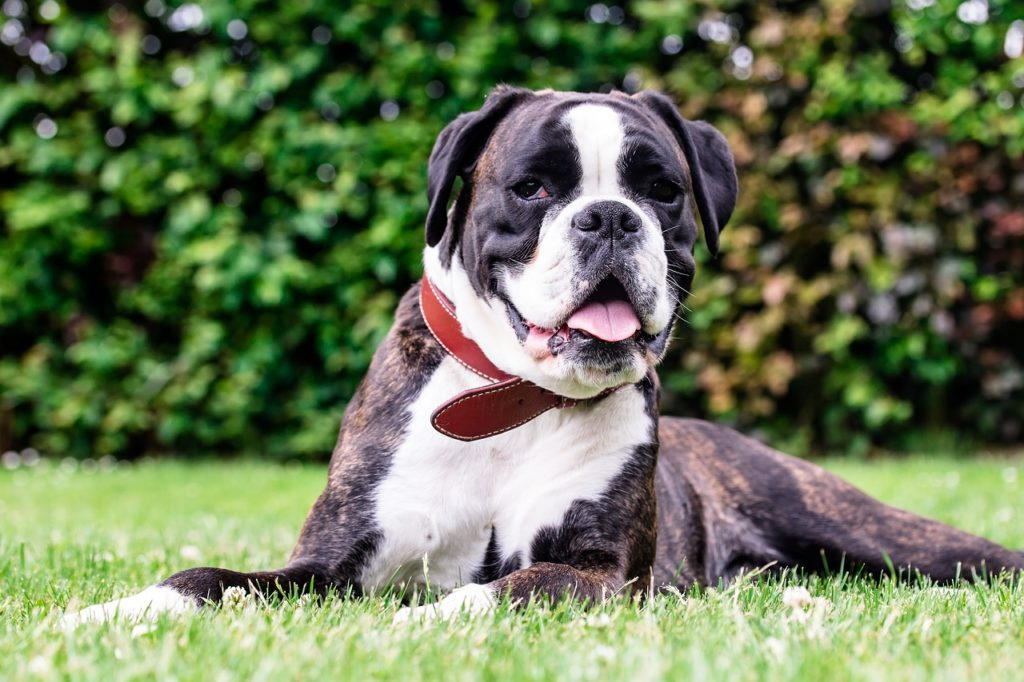 With lots of praise and discipline, you can turn a Boxer into a very playful family dog. 
It is important that Boxers have a calm and familiar environment to grow up in.
A visit to a dog school cannot hurt with Boxers and should be started as early as possible.
Who is the Boxer suitable for?
The Boxer is an absolute family dog and children will have great fun with the playful Boxer.
This breed of dog has a great deal of exercise and needs at least 2 hours of exercise and activity. 
In a home that is too small in the big city, the Boxer often feels too cramped. It would be best if his owner has a large house with a garden, which the Boxer can watch over and protect.
Contact with humans is very important to the Boxer and one can do many sporting activities with him such as cycling or jogging. 
The Boxer is particularly fond of children and is welcome with all children due to his playful nature.
Which dog breeds are suitable as family dogs?
With such a large number of dog breeds, there are some dogs that would be suitable as a family dog.
Not all of them have these characteristics, but you might like one that makes you say: "Yes, I could imagine us having him!
Small dog breeds: Beagle
Beagles are extremely fond of children, friendly, even-tempered and also have a strong sense of self-confidence. Weighing between 10 and 18 kg, they belong to the small dog breeds. They appear bright, playful, agile and are particularly intelligent. Their short coat does not require any special care.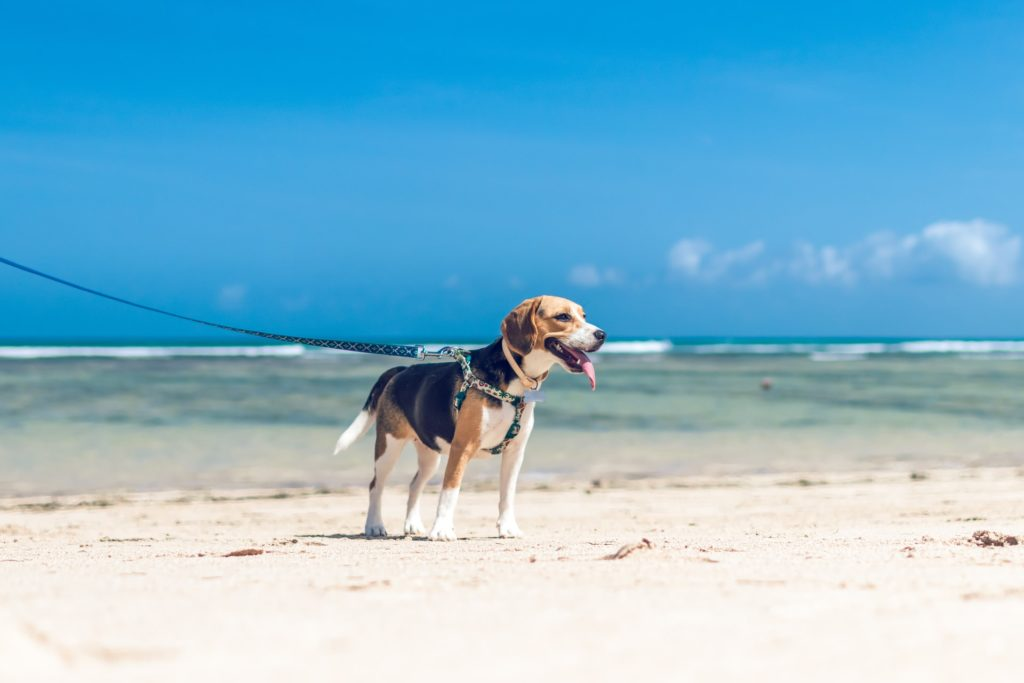 Small dog breeds: Chihuahua
The Chihuahua, which comes from Mexico, weighs 1.5 to 3 kg and fits into any pocket. With its lively nature, it appears extremely self-confident, spirited, courageous and curious. Chihuahuas are also known for their affection. This dog breed is a real couch snuggler with both long and short fur.
Small dog breeds: Maltese
The small Maltese weighs 3 to 4 kg. This makes it one of the mini dog breeds and makes it particularly suitable for keeping in smaller living areas. The Maltese city dog is intelligent, alert and spirited. He is also lively, eager to learn and playful. In conclusion, his affectionate nature makes him ideally suited as a family dog. With its medium length coat, it has somewhat higher grooming needs. Regular grooming may be necessary.
For more information on the Maltese, see our breed comparison of Maltese and Havanese.
Medium-sized dog breeds: Dalmatian
101 Dalmatians – who doesn't know the film? Children love the spotted four-legged friends. And rightly so! At 24 to 32 kg, they belong to the medium-sized dog breeds. They are extremely spirited, which is why they are less suitable for small children, but very suitable for older ones. They are also cuddly, attentive, loyal and agile. Their sensitive nature makes them a true comforter of souls. They are also known for their affection and intelligence. Due to their short coat length, no special grooming is required.
Medium-sized dog breeds: Labrador Retriever
Things get a little bigger with a 25 to 36 kg Labrador. This people-oriented four-legged friend delights with its playful character, good-naturedness and bright nature. Labradors are particularly loyal and reliable. They have a short coat that requires little time to groom.
The following breeds are also suitable:
    Doberman
    Hovawart
    Yorkshire Terrier
    Cavalier King Charles Spaniel
    Poodle
    Australian Shepherd
    Pug
When choosing a dog breed, bear in mind that every dog has its own character and that there are also dogs that belong to a suitable dog breed but are still not suitable for the job of a family dog.
Here we have summarized our most popular articles for you in a great overview: